A--T0DK1 - 406D9 DAM FROM : 8421XX
MODIFICATIONS 2000 1/2 MODEL YEAR
Modifications for 2000 1/2 model year for the 406 range are as follows :
modification : engines :
modification : equipment
modification : electrical equipment
1 - ENGINE ES9J4S/L4
4 DOOR SALOON DAM FROM : 842189 ESTATE DAM FROM : 842189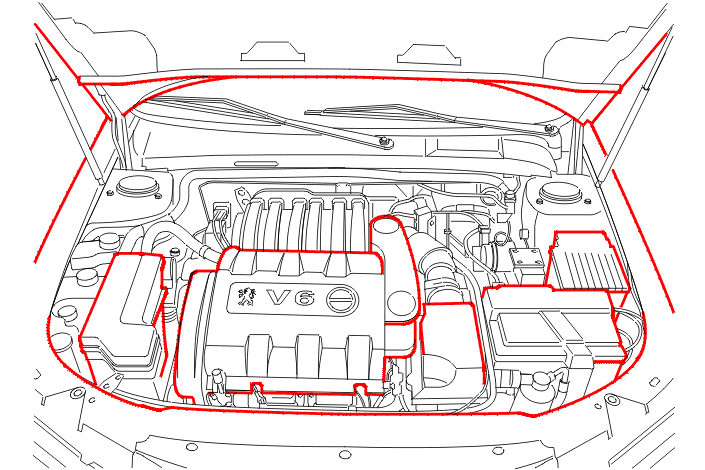 .
COUPE DAM FROM : 8421U5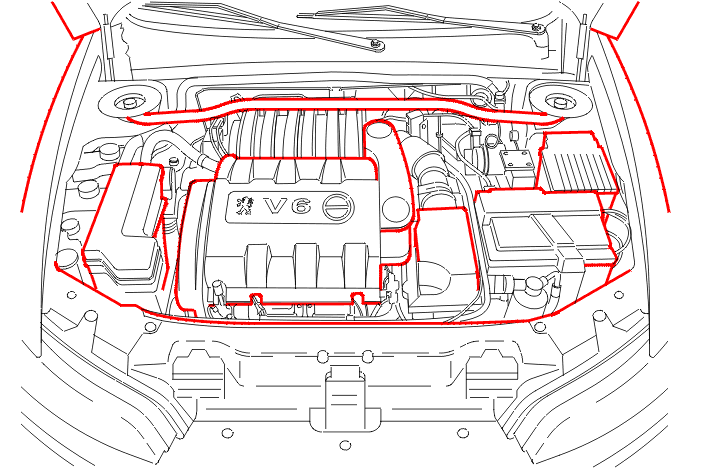 ALL MODELS
Replacement of the ES9J4/L3 engine by the ES9J4S/L4 engine .
1 - 1 - IDENTIFICATION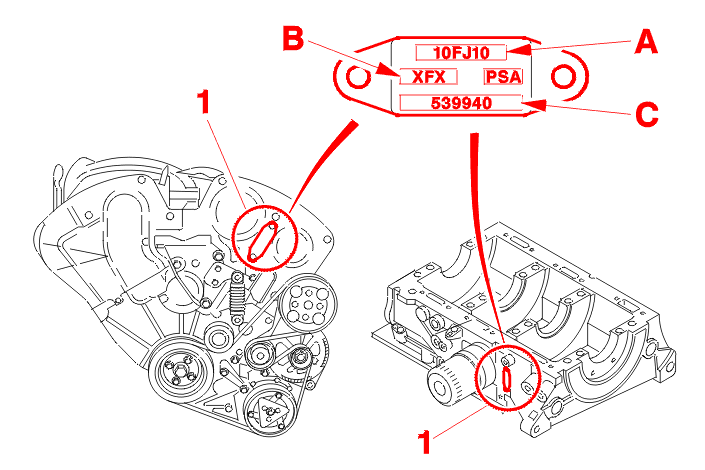 (1) Identification marking comprising :
(A) the component reference
(B) the legislation type
(C) serial number
1 - 2 - DATA
engine type
ES9J4S/L4
ES9J4S/L4
engine code
XFX
special feature
manual gearbox
automatic gearbox
unit reference
10FJ2C
10FJ2L
number of cylinders
6
bore x stroke (mm)
87 x 82.6
capacity (cm3)
2946
compression ratio
10.9/1
maximum power (KW - EC)
152
maximum power (HP DIN)
210
engine speed at max. power (r.p.m.)
6000
maximum torque (da.Nm - EC)
28.5
engine speed at max. torque (r.p.m.)
3750
turbocharger
N/A
exchanger
N/A
injection system
one-touch
make
BOSCH
type
ME7.4
1 - 3 - MAIN CHANGES
The ES9J4S/L4 engine incorporates the following developments compared with the ES9J4/L3 engine :
fitting of a variable timing system, to improve the torque and consumption, consisting of 2 vtc's (variable timing camshaft) located on the intake camshafts, with this variable timing system it is possible to vary the camshafts setting by 15 o
new inlet manifold (replacement of the short and long ducts by 6 ducts of equal length)
addition of a water/oil heat exchanger on the engine (manual gearbox versions)
new flexible engine flywheel which improves driveability by absorbing engine vibrations (manual gearbox versions)
new emission control standard L4 obtained by 2 extra pre-catalysers linked to 4 lambda sensors, in addition to the 2 catalytic converters, and a new combustion chamber
new multiple jet injectors
injection system BOSCH ME7.4.6 for managing eobd and incorporating management of the cooling (FRIC (cooling function integral with the ECU))
addition of a body accelerometer for the eobd function
ignition provided by 6 BAC1 model pencil coils
presence of a motorised throttle controlled by the engine management ecu
NOTE : EOBD : European On Bord Diagnosis : diagnosis of the emission control equipment .
2 - MODIFICATION : EQUIPMENT
New audio system amplifierJBL .
The role of the audio system amplifier is to give better reception and sound quality .
This amplifier is located behind the audio system .
3 - MODIFICATION : ELECTRICAL EQUIPMENT
3 - 1 - MODIFICATION OF HARNESSES
The electrical harnesses are undergoing modifications : Refer to the wiring diagram .
Removal of the wheel anti-lock braking system harness :
the front wheel anti-lock braking system sensors and the ecu are incorporated in the main harness
the rear wheel anti-lock braking system sensors are incorporated in the passenger compartment harness
3 - 2 - FUSE BOX
Modifications have appeared to the fusebox and/or the fuses (Refer to the wiring diagram) .
3 - 3 - CONNECTIONS
Reverse connector with SICMA 2 connectors .